The 701 is a coworking space by Evolve Grand Forks designed for freelancers, remote employees, and independent professionals to work together and share resources and ideas. Located in the heart of downtown Grand Forks, The 701 provides a unique environment that promotes creativity and provides a sense of community for entrepreneurs and creatives in Grand Forks and the surrounding area.
The Grand Forks Entrepreneurial Ecosystem Map
Grand Forks has a plethora of entrepreneur and startup resources. The ecosystem map illustrates and celebrates the network of stakeholders interwined in their services, mentoring, and championing of entrepreneurs  in the city. The different colors represent what the entity has to offer for budding and small business owners.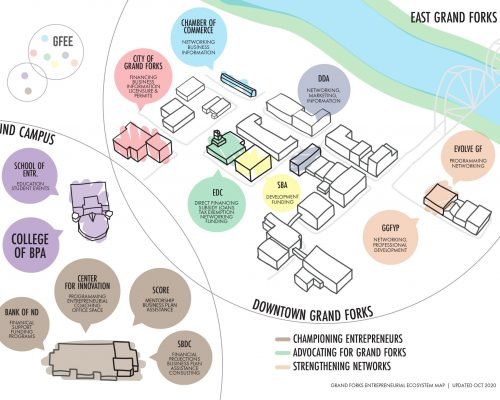 Developed by the Kauffman Foundation, 1 Million Cups is based on the notion that entrepreneurs discover solutions and network over a million cups of coffee. 1 Million Cups Grand Forks welcomes people and ideas to interact in our entrepreneurial ecosystem by connecting them with one another, inspiring them to take action on their dreams, celebrating our successes and our failures, and educating through the stories shared on our 1MC stage.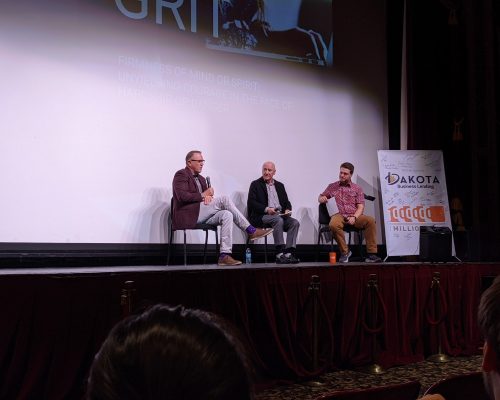 THE MAIN STREET CHALLENGE
The Main Street GF Challenge exists within the frame work of Governor Burgum's statewide initiative called the Main Street Initiative. This year's version focuses on creating an e-commerce business for high school students while learning important entrepreneurial skills.
Previously, students proposed projects with a civic focus. The winners were then awarded over $50,000 in prize money to implement their ideas.
StartUP Grand Forks has funded 14 new startsups over its 4 years in existence.
Total of $262,785 lent from the JDA, leveraging an additional $81,392 from the state and, $327,785 from the applicants. That is a total investment of $671,963 from this program.
Most importantly, it has sparked more than 60 conversations with prospective entrepreneurs that entered our ecosystem. Not all received the loans, but all were introduced to partners such as CFI, SBDC, SCORE, etc.
StartUP Grand Forks provides seed capital, an entrepreneurial network, and business development support to turn your great idea into a successful business. Flexible loan options with a one year payment deferral and 5% interest rate.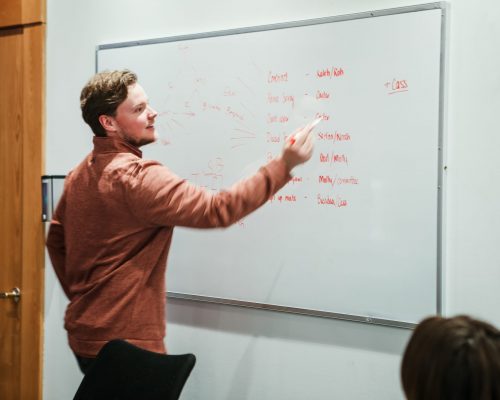 Couch to CEO Academy (COming soon!)
This short and intensive academy is designed to produce business-ready people. Each person will come out with a LLC business certificate and be equipped to start a business in the state of North Dakota. The cohort will be well acquainted with and have the opportunity to learn about the Grand Forks Entrepreneurial Ecosystem resources. If individuals choose not to pursue a business post-academy, they are educated in workskills to make them effective managers and leaders.