The 701 is a coworking space by Evolve Grand Forks designed for freelancers, remote employees, and independent professionals to work together and share resources and ideas. Located in the heart of downtown Grand Forks, The 701 provides a unique environment that promotes creativity and provides a sense of community for entrepreneurs and creatives in Grand Forks and the surrounding area.
The Grand Forks Entrepreneurial Ecosystem (GFEE)
Evolve Grand Forks serves as the convener of the Entrepreneurial Ecosystem.  The ecosystem map illustrates and celebrates the network of stakeholders intertwined in their services, mentoring, and championing of entrepreneurs in the city. Efforts to effectively map the ecosystem in an inclusive way are on-going.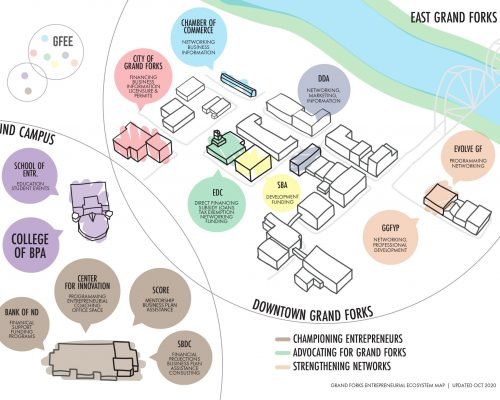 Formerly known as 1 MC, UpNext is the revitalized version that is tailored just for our community. This program happens the 4th Wednesday of most months from 8am – 10am with three evening installments for those cannot make the morning ones. Join us for lively conversation and entrepreneurial stories. 
THE MAIN STREET Grand Forks
The Main Street GF Challenge exists within the frame work of Governor Burgum's statewide initiative called the Main Street Initiative. 
Current programming is under renovations to be better suited to the needs of Grand Forks.
Couch to CEO Academy (COming soon!)
This short and intensive academy is designed to produce business-ready people. Each person will come out with a LLC business certificate and be equipped to start a business in the state of North Dakota. The cohort will be well acquainted with and have the opportunity to learn about the Grand Forks Entrepreneurial Ecosystem resources. If individuals choose not to pursue a business post-academy, they are educated in workskills to make them effective managers and leaders.