Back in 2014 a group of Grand Forkian friends shared a vision. They dreamed of having a space where entrepreneurs could work with no overhead costs for real estate. Their goal was to support startups and entrepreneurs in partnership with the community. In 2017, The 701 Coworking space was created and several initiatives were started, one of which is 1 Million Cups- Grand Forks. As time would have it, things changed and evolved, including the name.
Evolve Grand Forks incorporated as a 501(c)(3) nonprofit and oversees six initiatives: UpNext, Main Street Grand Forks, The 701 Coworking space, StartUP Grand Forks, Support Small-Love Local, Grand Forks Entrepreneurial Ecosystem convener, and soon, Couch 2 CEO. Evolve Grand Forks is an integral player in the entrepreneurial ecosystem of the Greater Grand Forks community. We have surpassed our aspirational goal of 40 members in The 701 Coworking and more than 40 startups have stood on-stage to tell their story through a previous program, 1 Million Cups.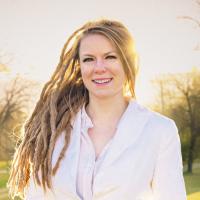 maggie (Smith) Brockling, MPA
Executive Director
Relationship builder and a connector who strives to make a positive impact on her community. Maggie Smith serves as the Executive Director of Evolve Grand Forks. She is on the Greater Grand Forks Young Professional's board of directors; a member of the Nonprofit Business Alliance serving on their Social & Economic Impact Committee; and is a member of the Grand Forks/East Grand Forks Chamber of Commerce's Small Business Committee, and an ambassador. Smith holds a Master of Public Administration from the University of North Dakota and a Bachelor of Forestry from the University of Tennessee. Previously, she was on the board of the Chicopee Chamber of Commerce and the Young Professionals Society of Greater Springfield, Massachusetts. She is a graduate of the Leadership Institute for Political and Public Impact from the Women's Fund of Western MA. Smith is a retired yoga teacher (RYT 200) and lifetime member of Girl Scouts of America.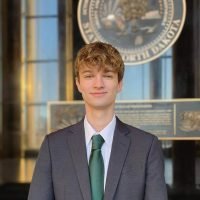 KAelan Reedy
Operations & Culture Specialist

EVOLVE GRAND FORKS BOARD OF DIRECTORS
Greta Silewski
City of Grand Forks
Board President
Kaleb Dschaak
Fenworks, Inc.
Board Vice President
Mark Yahna
Alerus Financial
Board Treasurer
Bridget West
Grand Forks Region Economic Development Corporation
Board Secretary
Brandon Baumbach
Grand Forks Region Economic Development Corporation
Board Member and Founder
Brandon Baumbach is the Director of Business Development at the Grand Forks Region Economic Development Corporation, where Brandon works to grow and diversity the Grand Forks regional economy. Among his responsibilities, he coordinates community support programs for new and growing companies in the region. As a co-founder of Evolve Grand Forks, he is passionate about supporting our community's entrepreneurs and contributing to a culture of entrepreneurship across sectors.
Jared Westrem
Airtonomy
Board Member
Sandi Luck
Bully Brew Coffee
Board Member
Sandi Luck is the owner of Bully Brew Coffee & the ND Coffee Roastery. Sandi has grown Bully Brew Coffee to five cafes and a roastery (The ND Coffee Roastery) in the last 10 years. Her roastery supplies freshly roasted beans to her coffee houses; other coffee houses and small businesses in the Midwest; including on her online store. Sandi is also a professor at the University of North Dakota in the Marketing Department. She has a passion for teaching and sharing her story to help new entrepreneurs and new marketers to create success for their future.
She has cobranded the University of North Dakota Athletics Department to develop a new coffee blend (Hawks Blend) and with Half Brothers Brewery to create a delicious beer (Bully Brew Brown Ale). Sandi loves being a grandma and a bulldog mom. She enjoys UND sports and traveling with her better half, Brad.
Nicholas Flom
Deloitte
Board Member
Get Involved with Evolve Grand Forks
With a variety of programs and mentorship options, we have just the right volunteer opportunity for you.